BATHURST 1000 ­- 10th to 13th October, 2014 ­ Mount Panorama Race Circuit (Bathurst, NSW)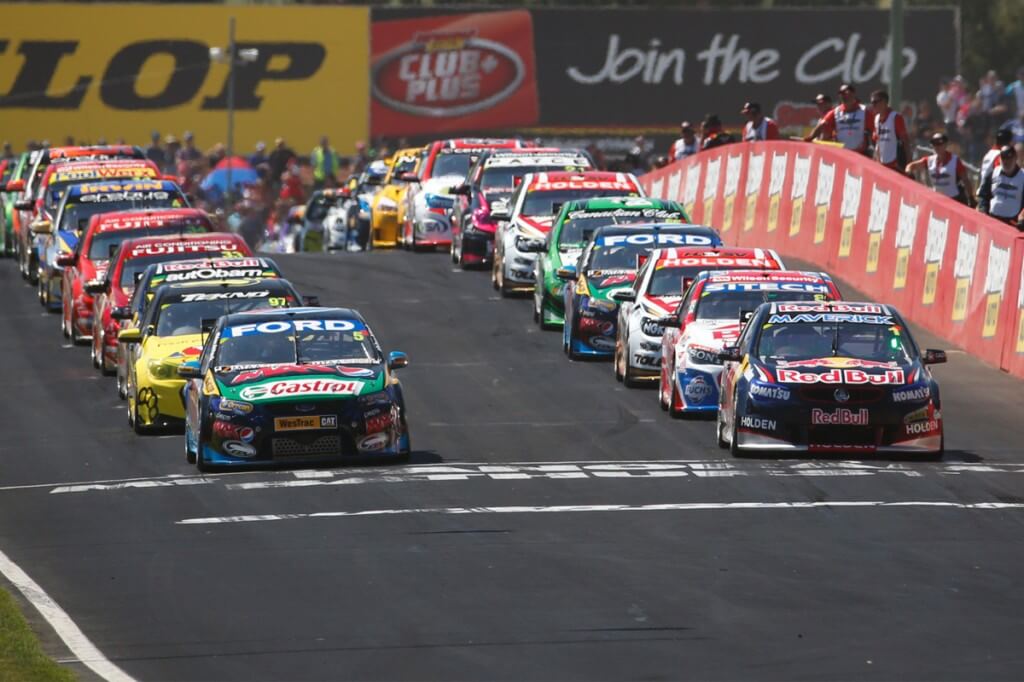 Does this event even need to be on the list?
It really is that much of a given that the number one motorsport event in Australia this year, and every year, is the Bathurst 1000 held at the world famous Mount Panorama circuit. The four day event provides all spectators an opportunity to see the cars at various points around the unforgiving 6.2km circuit which elevates over 150 metres as the cars climb, traverse and then come down the great mountain.
The opportunity to see some of the best touring cars and their drivers in the world bang doors for 7 hours alone is reason enough to travel from anywhere in the world to see the event. The opportunity to get amongst the passionate spectators that camp around the track's edges, some of which have been coming to the race for over 40 years, is too good to pass up. Besides, where else in the world can you be on top of the mountain talking to someone with the most impressive haircut you've ever seen (ie. mullet), then next be sipping champagne in the corporate facilities above the pit garages.
RALLY AUSTRALIA ­- 11th to 14th September, 2014 ­ Coffs Harbour, NSW
Did you grow up playing Colin McRae Rally on the trusty PlayStation or perhaps one of the numerous other rally games? Or maybe you are a part of the generation that idolises guys like Ken Block & his Gymkhana videos on YouTube?
You really haven't seen anything when it comes to motorsport unless you have watched the world's best tackle the gravel & tarmac roads of the world. Rally Australia forms part of the World Rally Championship and is held on the dirt roads around Coffs Harbour including a "Super Special Stage" that in years past has been held in town each night of the rally.
2014 is the third time Rally Australia has visited the Coffs Coast and this year Australian's have a local driver to support in Chris Atkinson, who will be tackling the stages in his Hyundai World Rally Car. With a Kiwi driver, Hayden Paddon, also racing for Hyundai the traditional Australia versus New Zealand rivalry will provide a battle within a battle!
MUSCLE CAR MASTERS ­- 6th to 7th September, 2014 ­ Sydney Motorsport Park (Eastern Creek, NSW)
Did you grow up watching Australian touring car heros like Peter Brock, Dick Johnson, Ian Geoghegan, Colin Bond or Allan Moffat? What about watching old replays of Bathurst? Have you even longed for the opportunity to see the cars of yesteryear race?
If you answered yes to any of the above and even if you didn't, you have to get along to the Sydney Motorsport Park on the Fathers Day long weekend to watch exciting historic touring car racing, as well as getting close to the cars and the drivers from yesterday (and today!).
??Sydney Motorsport Park provides spectators the best opportunity to watch the historic "tin­tops" race like days of old. It's also a great track for photography allowing you to get some great shots of the race cars of yesteryear plus plenty of opportunities to grab an autograph or three from your favourite drivers.
FINKE DESERT RACE ­- 7th to 9th June, 2014 ­ Alice Springs, NT
Chances are that unless you are a motorsport fanatic you may not have heard about the Finke Desert Race that is known as Australia's Greatest Desert Race. The Tatts Finke Desert Race is an off road, multi terrain two­day race for bikes, cars, buggies and quads through desert country from Alice Springs to the small Aputula (Finke) community.
If you enjoy off­road action, cars that jump like they don't want to touch the ground and suspension that travels more than you can stand up straight – then get over to this event! Besides, you also get to take in the majestic beauty that is central Australia at the same time.
MOTOGP PHILLIP ISLAND ­- 17th to 19th October, 2014 ­ Phillip Island, VIC
Who wouldn't want to see the world's best motorbike riders racing around Australia's best permanent racing circuit?
MotoGP is guaranteed to produce some of the most exciting and close racing you will ever see. Add to that the beauty of the fast flowing Phillip Island circuit and you get an event that you just cannot miss. And if you are a rider yourself, you can join thousands of others that ride from all over Australia to the circuit in both organised and personal tours.
EVENTS YOU SHOULDN'T MISS NEXT YEAR!
CLIPSAL 500 (March 2015) ­ known as the best V8 Supercar event outside of the Bathurst 1000
BATHURST 12 HOUR (February 2015) ­ watch Audis, Lamborghinis, Porsches, Ferraris and a huge variety of product based cars race the Mount Panorama circuit for 12 hours!
F1 MELBOURNE (March 2015) ­ it's Formula 1, do I really need to give you any more of a reason?