FALKEN RI128
The RI128 is our low-profile scrub resistant trailer tyre for general transport drop-deck and heavy equipment low loader applications. The premium tread compound is designed for low rolling resistance and high mileage to deliver cost effective performance.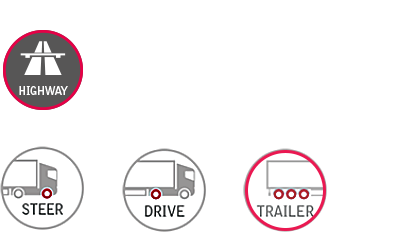 ---
---
Low Profile, All-Purpose Trailer Tyre
Features
Tough, durable casing with reinforced shoulder >
Outstanding for re-treading and re-grooving. High mileage.
< Micro Sipes
Along the rib walls ensure even wear by adding flexibility to the rib wall.
Four Wide Circumferential Grooves & Closed Outside Shoulder >
Excellent directional stability. Superb driving characteristics in wet and dry road conditions. Even wear.
Sizes and Specs

| Material Code | Pattern | Size | LI/SS | Type | Product Origin | Overall Diameter (mm) | Overall Width (mm) | Original Tread Depth (mm) | Design Rim Width (inch) | Approved Rim Widths (inch) |
| --- | --- | --- | --- | --- | --- | --- | --- | --- | --- | --- |
| 266767 | RI128 | 215/75R17.5 | 135/133J | TL | Japan | 773 | 213 | 12.5 | 6 | 6.00, 6.75 |
| 306439 | RI128 | 235/75R17.5 | 143/141J | TL | Japan | 801 | 237 | 13 | 6.75 | 6.75, 7.50 |
| 259371 | RI128 | 265/70R19.5 | 143/141J | TL | Japan | 869 | 252 | 13.3 | 7.5 | 6.75, 7.50, 8.25 |