FALKEN RI128
The RI128 is ideal for steer and trailer axles, it features outstanding characteristics in wet and dry conditions alike. With high mileage and excellent regroovability and retreadability, the RI128 is the ideal choice for cost-effective performance in regional transport.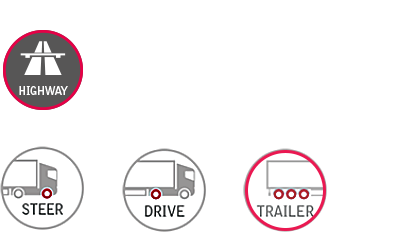 Find in Store
---
---
LOW PROFILE, ALL POSITION TYRE
Features
Tough, durable casing with reinforced shoulder >
Outstanding for re-treading and re-grooving. High mileage.
< Micro Sipes
Along the rib walls ensure even wear by adding flexibility to the rib wall.
Four Wide Circumferential Grooves & Closed Outside Shoulder >
Excellent directional stability. Superb driving characteristics in wet and dry road conditions. Even wear.
Sizes and Specs

Please click on the size and spec you need to view tyre dimensional data.

| Material Code | Pattern | Size | LI/SS | Type | Product Origin | Overall Diameter (mm) | Overall Width (mm) | Original Tread Depth (mm) | Design Rim Width (inch) | Approved Rim Widths (inch) |
| --- | --- | --- | --- | --- | --- | --- | --- | --- | --- | --- |
| 266767 | RI128 | 215/75R17.5 | 135/133J | TL | Japan | 773 | 213 | 12.5 | 6 | 6.00 - 6.50 |
| 306439 | RI128 | 235/75R17.5 | 143/141J | TL | Japan | 801 | 237 | 13 | 6.75 | 6.75 - 8.25 |
| 259371 | RI128 | 265/70R19.5 | 143/141J | TL | Japan | 869 | 252 | 13.3 | 7.5 | 6.75 - 8.25 |
| 266483 | RI128 | 385/65R22.5 | 160/- K | TL | Japan | 1073 | 377 | 16.5 | 11.75 | 11.75 - 12.25 |