Mitsubishi ASX
Find your perfect fit
Find your perfect tyre fit for your Mitsubishi ASX
The Mitsubishi ASX has been and remains one of Australia's most popular small SUVs. In fact, the ASX has dominated city streets and school zones since it first appeared in showrooms in 2010. Families and couples and even older adults love the ASX because of its roomy interior and exterior dimensions which let you fill it with groceries, surfboards or footy balls while still leaving plenty of room for passengers.
Designed for scooting through the city, tackling the open highways and travelling long country roads, the ASX is a small SUV with big functionality. And you need tyres to support and optimise that performance.
Falken's Mitsubishi ASX tyres have been designed with the performance needs of your ASX in mind. Created with long wearing durability and cutting-edge safety features, our Mitsubishi ASX tyres will help you get the optimal performance out of your vehicle whether zipping to footy practice or heading down the coast for a weekend at the beach.
When you use Falken's tyres you can be confident that they'll get you where you need to be.
Mitsubishi ASX Tyre Range
Falken has a range of Mitsubishi ASX tyres to suit your performance needs and driving style.
Why Choose Falken for your Mitsubishi ASX Tyres?
At Falken we don't just make tyres. We conceptualise, design, create and manufacture a range of high-performance tyres designed specifically with your vehicle in mind. When it comes to the Mitsubishi ASX that means tyres that optimise the stability and driveability of your vehicle, provide better traction and grip, implement cutting-edge safety features and ensure you're achieving the optimal level of fuel consumption. In other words, our Mitsubishi ASX tyres give you a smoother, quieter, more fuel efficient and safer ride.
Our team is constantly working behind the scenes exploring the newest innovations and cutting-edge components and design features to bring more functionality to our Mitsubishi ASX tyres. Our team is committed to being the best, and when you come to Falken, you can be confident that that's just what you're getting.
Mitsubishi ASX Tyres for Sale Near You Find a Dealer
Tyre Range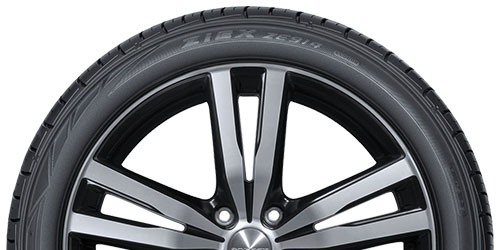 ZIEX ZE914 ECORUN
PERFORMANCE AND ECONOMY
TREAD LIFE

FUEL EFFICIENCY

DRY HANDLING

WET PERFORMANCE

NOISE

RIDE COMFORT
The ZIEX ZE914 ECORUN is the next generation, high-performance tyre made for Australian roads. Engineered for performance and cost saving fuel efficiency, the low rolling resistance compound offers more mileage and better wet braking. The tyre features an asymmetric tread ...